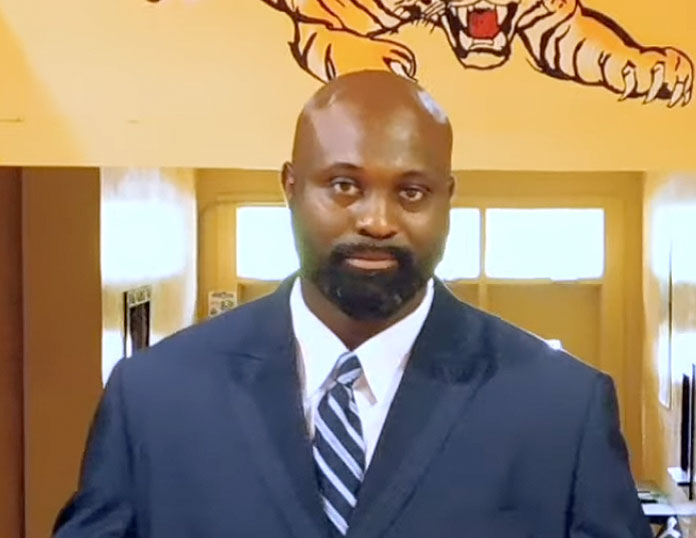 LaDon Taylor
Asst. Principal
Dear Tiger families,
As the principal of Charleston High School, I would like to extend a warm welcome to every family in the community. Our school is a place alive with much energy, enthusiasm, and a high standard of excellence!
My hope is that all children will LOVE school and that we will nurture a learning environment that is positive and safe, as well as a fun place to learn and grow.
Student success is attributed to the partnership and the relationships we build within our community. It truly does take a village! Education is a joint venture and ETSD greatly appreciates the support you provide for your children at home and at school to help them meet their learning goals.
By working together we can help each child achieve an excellent education in a safe and positive environment.We look forward to another year full of adventure and student growth!
Let's have a great school year!
Mark Beecham,
Principal
Nine Weeks Exams Schedule
Tuesday, March 16
Wednesday, March 17
Thursday, March 18
Friday, March 19
8:00-10:00
1st Block Exam
8:00-10:00
2nd Block Exam
8:00-10:00
3rd Block Exam
8:00-10:00
4th Block Exam
10:05-11:00
2nd Block
10:05-11:00
1st Block
10:05-11:00
2nd Block
10:05-11:00
3rd Block
11:30-12:55
3rd Block
11:30-12:55
3rd Block
11:30-12:55
1st Block
11:30-12:55
1st Block
1:00-2:25
4th Block
1:00-2:25
4th Block
1:00-2:25
4th Block
1:00-2:25
2nd Block
2:30-3:30
Intervention Block
2:30-3:30
Intervention Block
2:30-3:30
Intervention Block
2:30-3:30
Inte